We love a headset. We've got quite a collection from various manufacturers, but one company we haven't seen anything from yet is Meters Music, a company usually more associated with headphones for listening to music and suchlike. They're decent, top-end headsets too. And so when the info below was sent over to us, we thought you'd like to know. A new manufacturer of gaming headsets is no bad thing, and we're pretty excited to see what these guys can come up with.
Anyway, info below!
Meters Music, the British music and audio innovator, introduces its first-ever, flagship gaming headset, named Level Up. Designed and engineered in the UK, Level Up will provide gamers with the highest quality sound experience, stepping even closer to the gameplay experience and offering the player an audio advantage over their rival. Just launched and available later this month, Level Up can be ordered from metersmusic.com for a very reasonable £99.99.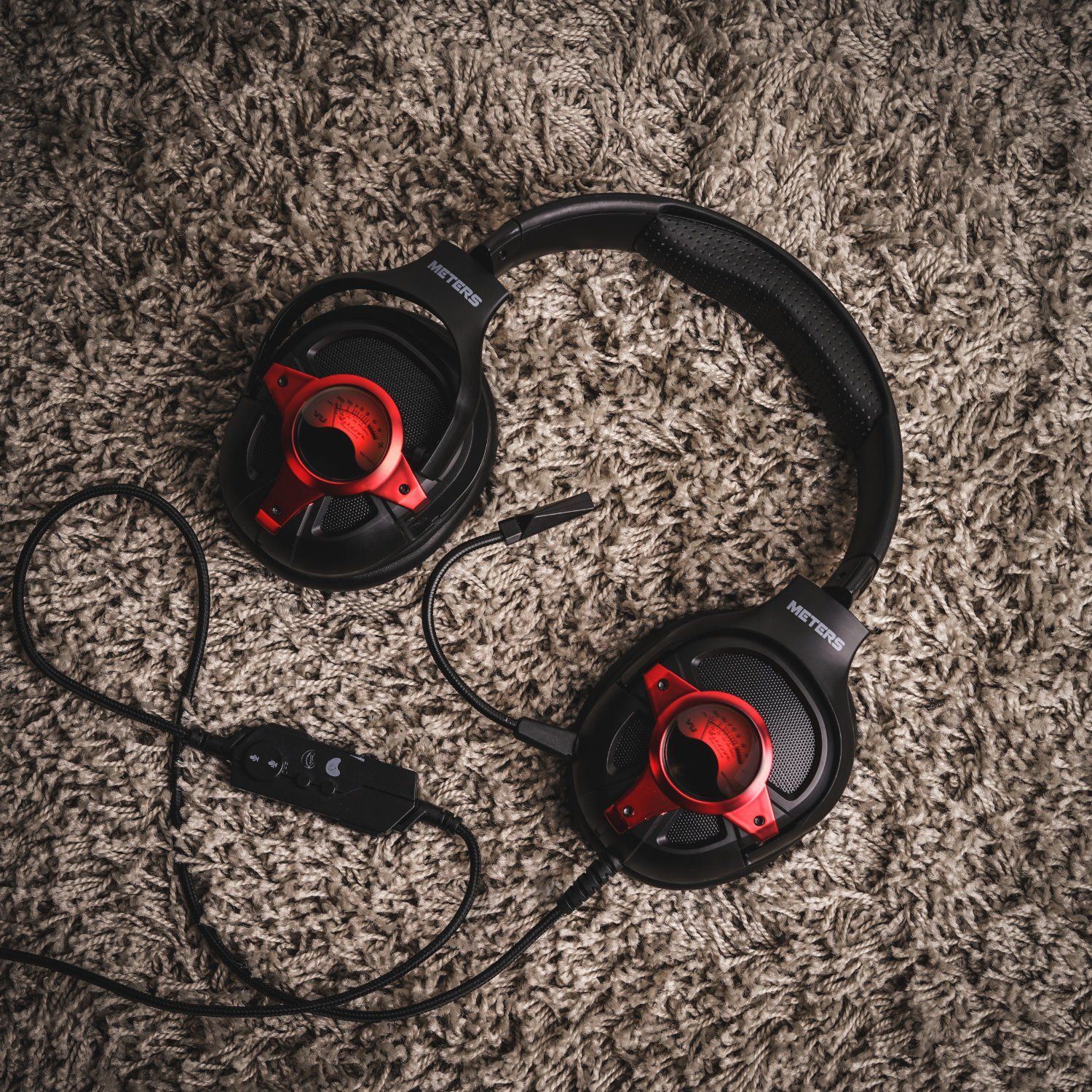 The new Level Up gaming headset delivers a fully immersive and impressive virtual 7.1 surround sound performance and is equipped with a detachable, high-performance microphone – enabling clear communication while in gameplay. Compatible with all PCs, laptops, PS4s and the Xbox, the headset can be easily plugged in via a USB outlet or a headset connector which helps to deliver zero latency in the audio.
Want the tech details? Sure you do. The headset has been developed with 50mm drivers which produce full-range and deep bass sounds capable of transmitting on both the highest and lowest frequencies, bringing to life games with stunning audio detail and dynamics. Weighing in at just 320 grams, this lightweight headset should be both comfortable to wear but also has been designed to be durable for the serious gamer in mind – capable of endless hours of gameplay. The 2.2-metre braided cable provided, again offers further endurance for a headset which will stand the test of time.
The headset also features Meters' signature and patented design feature: the fully functioning VU meters (positioned on both sides of the headset) that react and move in real-time to the volume of the incoming audio signal. Calibrated to EU listening safety standards, the VU meters provide both an eye-catching design and boundaries of safety at the same time. Not only that, but the VU meters are RGB illuminated which can be adjusted to the player's favourite colour. This can be controlled via the accompanying remote which also allows for volume control, as well as turning the microphone on or off.
And as if all that wasn't enough, they're available in carbon, silver and red. Nice. And if all this info isn't enough and you still want more, head to www.metersmusic.com.